Publishing Date: July 25, 2016
Dates Read: June 18 – June 29, 2019
Publisher: Harper Voyager
Genre: Adult Fiction, High Fantasy
Format: eBook & Audiobook (Recommended)
My Rating: 5
"The books we love, they love us back. And just as we mark our places in the pages, those pages leave their marks on us. I can see it in you, sure as I see it in me. You're a daughter of the words. A girl with a story to tell."
Destined to destroy empires Mia Covere is only ten years old when she is given her first lesson in death.
Six years later, the child raised in the shadows takes her first steps towards keeping the promise she made on the day that she lost everything.
But the chance to strike against such powerful enemies will be fleeting, so if she is to have her revenge, Mia must become a weapon without equal. She must prove herself against the deadliest of friends and enemies, and survive the tutelage of murderers, liars and demons at the heart of a murder cult.
The Red Church is no Hogwarts, but Mia is no ordinary student. The shadows loves her. And they drink her fear.
Beautiful People (feat. Khalid) by Ed Sheeran, Khalid
Those Nights by Bastille
(these songs can be found in Spotify)
★★★★★
I AM IN LOVE WITH THE NARRATION…
I have not felt emotion like this since The Infernal Devices… I have now officially forgiven Jay Kristoff for the disappointment that is Aurora Rising.
UPDATE: It's been about 10 hours since I finished the book and I can't stop thinking about this book!! I tear up every time I think about it and how good this was for me :') I'm not even exaggerating…
DON'T TOUCH ME I'M FRAGILE.
My birthday wishlist: my very own not-so cat please (complete with sarcasm and snarkiness)
"The last thing you will ever be in this world, girl, is someone's hero. But you will be a girl heroes fear."
It's like Harry Potter…. but ASSASSINS. HOW COOL IS THAT???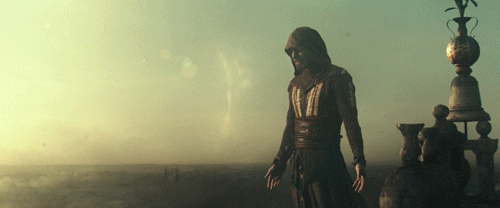 Honorable mention: that might have been the best prologue I have read in my life. If you finished the book and read the prologue again… you're lying to me if you say your heart didn't at least clench. That epilogue also killed me (you know what I'm talking about if you read it) and that's the part that I actually bawled my eyes out.
GOLD TAKES TIME TO BREW…
This book made me giggle and laugh to myself in more parts than one… AND I DID NOT expect that coming from a dark and heavy book for some reason.. ??? I was really glad that I was open to this though ❤
"Your mind will serve you better than any trinket under the suns…It is a weapon…and like any weapon, you need practice to be any good at wielding it."
I had no idea where the story was going THE WHOLE TIME. If you're here for the Assassin School plot (like me) it doesn't really get there until about the 20% mark but just be patient.
I WOULD GIVE THE WRITING STYLE ALL OF THE STARS THAT I CAN GIVE…
It gave me shivers (especially when she named Mister Kindly, there's something kind of dark about it but I love it) and the timing of everything seemed perfect. Jay Kristoff knew when to hit with the perfect plot points to keep you turning the page. I appreciated that there was humor to balance all the dark and shiver-worthy parts of the book. I felt like I was on the edge of my seat all throughout. I was so invested in the plot, the characters (yes, all of them, 100% in love), the humor and darkness… It was such a nice blend of elements people. I was shooketh.
THE WORLD BUILDING IS SO. IN. DEPTH.
This is another one of those books that takes it's time but it got me so H-O-O-K-E-D. It's such an interesting and intriguing read. The world building is done SO. WELL. I feel like I was learning to be an assassin too hehe
THE MIA-TRIC DYNAMIC… IS… YES…
And don't worry… the start isn't boring just because the assassin school plot hasn't begun. It builds on Mia's character first which makes you absolutely invested in her. I want my very own Mister Kindly. AND CAN I JUST SAY I LOVE HER DYNAMIC WITH TRIC… I'm just putting it out there.. I love them.. don't fight me on this.
READ THIS PART IN MY GOODREADS REVIEW FOR SOME SPOILER-Y THOUGHTS: [My Goodreads Review]
"This is a dark road we walk, Mia."
"Then we walk it together,"
AHHHHH THIS QUOTE!!! NOBODY TOUCH ME I'M FRAGILE PART 2

THE THEMES ARE MORE THAN IT SEEMS…
if I start talking about what this book is really about I'm going to cry all over again so it's better to just leave you to it.
THE PACING…
*kisses fingers* perfecto
MY FINAL THOUGHTS…
ITS GREAT. ITS WONDERFUL. ITS AMAZING.
If you need me… I'll be at Godsgrave…
"Too many books,"
"Too few centuries."
NOTE: I recommend the Audiobook of this if you listen to Audiobooks because it is so great !!!! Especially for the battle scenes. If you don't usually listen to Audiobooks I still recommend you listen to this, especially if you have a hard time with High Fantasy. This one was performed wonderfully and did a great job keeping my focus. But I do recommend that you keep an eBook copy on you so that you can follow the change in timelines in the beginning and the footnotes so that it doesn't get confusing.
A STANDALONE BOOK